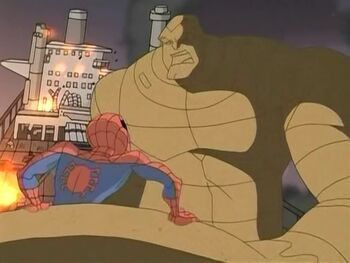 Spectacular Spider-Man to the story of Disney's Mickey and the Beanstalk.
Spider-Man/Peter Parker as Mickey
Black Spider-Man/Eddie Brock as Donald
Scarlet Spider/Ben Reilly as Goofy
Mary Jane Watson and Gwen Stacy as the Harp
Flint Marko as Willie
Differences
Edit
Instead of the story being told at a party, the story is told as a bedtime story to May Parker and George Reilly.
Also, the role of the harp is split in two between Mary Jane, the beautiful singing voice, and Gwen, the actual leader.
Instead of them accidentally getting to the castle because of the dragon fly, it's planned by Eddie.
Also, it's told what happens to the characters specifically, in which Mary Jane and Peter get married and have May while Ben and Gwen get married and have George.
Link: http://www.fanfiction.net/s/6551387/1/SpiderMan_and_the_Beanstalk
Ad blocker interference detected!
Wikia is a free-to-use site that makes money from advertising. We have a modified experience for viewers using ad blockers

Wikia is not accessible if you've made further modifications. Remove the custom ad blocker rule(s) and the page will load as expected.